HURRAH! We have now had four million visitors! Thank you for your interest.
This ad-free site gives students & teachers what you need to "SPEAK" English.
MARIANNE RAYNAUD: Webmaster of QualityTime-ESL & Materials Writer
GREAT NEWS! EBOOK VERSION of QualityTime-ESL: The Digital Resource Book (ebook) is now on Amazon (€2.99)
FOR DEDICATED TEACHERS to help with their courses an innovative high-tech resource as a download or DVD (3.9 GB):
QualityTime-ESL: The Digital Resource Book (More info below.)

FOR MOTIVATED LEARNERS to improve their speaking skills:
Free Interactive Podcasts on iTunes and below (A2-C1):
PDF files (packs of scripts) for mobile devices cf. our store or the article.
Download from links above, subscribe on iTunes or use these RSS feeds:
Your English (Vocabulary A2-C1)

QualityTime-ESL (Grammar: A2-C1)

5-minute TOPs (Fun with lyrics)

NEW: Essential English (For beginners)

Our podcasts, ranked in the "top 200 language courses" on iTunes in many countries, provide "active" ORAL TRAINING (A2-C1 levels & even beginners)
FOR TRULY DEVOTED TEACHERS looking for more effective teaching methods
QualityTime-ESL: The Digital Resource Book

FREE TEACHER DEVELOPMENT COURSE
DIRECT LINKS: Songs, Lesson Plans,Videos for ESL Teaching, Idea Pages, Free Materials, 15-Minute Film: Students of CPP-Prépa INPG
STORY: "Was It Love?" - With more than 140 irregular verbs in context
FOR TEACHERS: Parts of the digital book are sold separately in our store:
FOR TEACHERS & STUDENTS
The meaning of the term: QualityTime-ESL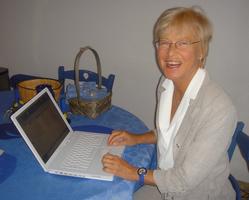 "QualityTime" is an allusion to a term, which is often used by busy Americans to refer those precious moments we spend with our children when they are growing up. Read more…
More information: introduction to QualityTime-ESL: The Digital Resource Book
In search of tutoring in English
For beginners or students starting over
Looking for ways to make ESL teaching more "dynamic"?
More information about QualityTime-ESL.com