This ad-free site gives students & teachers what you need to "SPEAK" English.
GREAT NEWS FOR TEACHERS & STUDENTS ALIKE!
The COMPLETE VERSION of QualityTime-ESL: The Digital Resource Book 2.0 is now available as three zip downloads called the The COMPLETE PACKAGE 2.0.
We will send you links to three zip files: one with the book and its Document Annex and two others with the clips and the films that were previously only available on the DVD.
You will see students using QualityTime-ESL materials and activities in the classroom and listen to them speak English. These techniques and materials will help your learners reach proficiency in spoken English with only 90 hours of classroom teaching.

This new-style resource manual Is a guidebook that explains how the materials in the accompanying Annex can be used.
The Document Annex is composed of over 1,500 unique files, which will help dedicated teachers develop effective courses. The files in DOC, PDF, MP3, and PPT allow you to customize the exercises and thus both innovate and personalize your teaching.
Price: €24.99 (**Money back guarantee). Read more… or order from the store.
**This is not just an ebook. It is a resource book that enables you to make your own booklets and set up effective programs.
You can choose to buy only QualityTime-ESL: The Digital Resource Book 2.0, the manual with the accompanying Document Annex containing the 1,500 files. The ZIP files with the clips and films can be purchased later.
Price: €19.99 (**Money back guarantee). Order from the store.
PREPARATION FOR INTERNATIONAL EXAMS:
To succeed in exams like the IELTS, TOEFL, TOEIC or CAMBRIDGE FIRST/PROFICIENCY and dramatically improve your speaking skills, you can use:
OUR AUDIO PODCASTS (with scripts for each episode)
Interactive Podcasts (A2-C1 and even beginners) on this site and on iTunes:
Download from links above, subscribe on iTunes or use these RSS feeds:
Your English (Vocabulary A2-C1)

QualityTime-ESL (Grammar: A2-C1)

5-minute TOPs (Fun with lyrics)

NEW: Essential English (For beginners)

ALSO TAKE A LOOK AT:
DIRECT LINKS: Songs, Lesson Plans,Videos for ESL Teaching, Idea Pages, and the Film: Students of CPP-Classe Prepa INPG
ITEMS SOLD SEPARATELY in our store:
*Back to the Basics Series (3 ready-to-print pamphlets with exercises, keys, audio files, PPTs, and advice for teachers)
*Packs of scripts for our podcasts in PDFs for smartphones and in DOCs for teachers
The meaning of the term: QualityTime-ESL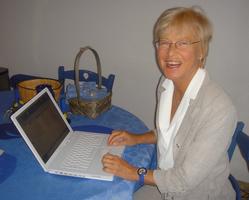 "QualityTime" is an allusion to a term, which is often used by busy Americans to refer to those precious moments we spend with our children when they are growing up. Read more…